Union. On the album of the same name, that was the single word sporting this face, with the additional word "Yes" added to the spine of the CD. Not much to go on, but the particular edging made its brush origins clear and for additional character inspiration, I worked from typography book collections.

Yes:Union is a bloated, brushstroke face with a slight inclination. It works great for display uses, and with judicious spurts of white space, it could also be used for main text, though some may find it difficult to read. It has upper and lowercase, numerals and punctuation. As with all the Dreamfonts, it has been optimized for on-screen viewing and proportioned specifically for use on the web.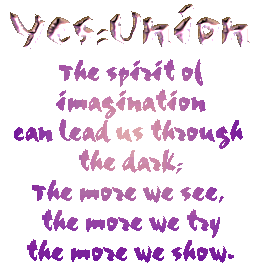 The graphical font samples
quotations are from the
song lyrics of Yes.